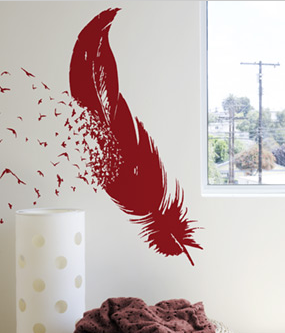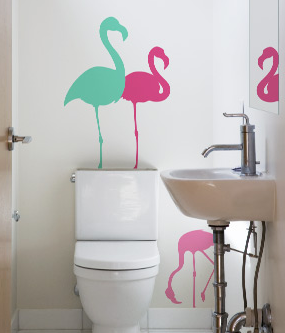 Although the winding down school year means that finals (and lots of stress) are coming up, it also signals the start of summer. For me, this also means I get to move into my new apartment! I've been looking around for some ideas to decorate the small place, and I found the site
What Is Blik
. They offer
self-adhesive wall decals in a collection of designs. I can't help but think it is one of the best things ever invented. Basically, stick these on your wall, and take them off when you get sick of them (or have to move out). They're perfect for my temporary, school apartment. And of course, I had to look around for bird related designs.

Birds of a Feather, $40
Although it's very simple looking from afar, I love how the feather "pieces" break up into bird silhouettes flying away.

Flamingo, $30
I have to admit I'm not a huge fan of flamingos, but they come in so many different colors, it'd be such a fun and easy way to get some color into my apartment.

Brazilian Spirit, $50
I think this one is pretty self-explanatory. I'm a sucker for parrots.

Fly Re-Stik, $25
A classic, neutral bird design that I probably won't get tired of.